BEGINNING AND INTERMEDIATE FLOOR LOOM WEAVING

with Sue Luna
August 5-7 and 9,  2019
24 hours
Monday August 5, 2019 – Wednesday August 7, 2019
Friday August 9, 2019
9:30am – 4:30pm (1 hours lunch break)
Tuition: $400 materials included
NOTE:  If taking multiple rug classes this year, contact Lolli for possible discount

To enroll send $50 non-refundable deposit with contact information and class request to:
Pacific Textile Arts 450 Alger St. Fort Bragg, CA 95437
OR … use our online registration form and optionally pay deposit with paypal.
Learn the basics of floor loom weaving—planning, choosing materials, choosing patterns, weaving, and finishing.
Beginners will learn to warp a loom, more advanced weavers will get a good review and learn some new tricks while working in pairs to set up a variety of patterns (plain weave, color and weaves like log cabin, twill, lace weave, etc.) with a variety of materials (cottons, rayons, chenilles, etc.) on a variety of looms.
Students will move from loom to loom in a "round robin" fashion to maximize exposure to many handwoven cloth choices such as scarves/shawls/; pillows/throws; placemats/table runners; even rugs.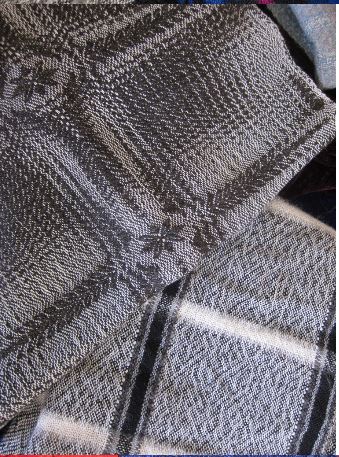 BIO:  Sue Luna's professional handweaving business, "Magic Strands", produced high end chenille scarves, shawls, blankets, etc. for the likes of Nordstrom's.
She also produces a line of handwoven cotton umbrellas as well as alpaca fabric and clothing."
For more information, Contact
Lolli