Equipment For Sale
Used Fiber Arts Equipment – FOR SALE WANTED notices
Please contact us if you would like to place a gratis "For Sale" or "Wanted" notice at this location.

LISTINGS WILL REMAIN FOR 6 MONTHS unless notified that item sold or extended listing desired
Contacts: webtech@pacifictextilearts.org; pacifictextilearts@mcn.org



ITEMS For SALE at PACIFIC TEXTILE ARTS – ALL SOLD "AS IS" …
SEE SLIDE FOR SALES ROOM options …
small table loom
PTArts Equipment

Small Table Loom
19 X 20 inches
Will weave 12 inches wide.
Has rollers for length.
4 Harness with springs and pullys
$40
&nbsp
Contact Lolli Jacobsen
(707) 964-4819 or
Childs Loom no1
PTArts Equipment

Childs Loom no1
"Wool Weaving Loom"
6 X 10 inches
some possibility for longer warp
Rigid Heddle
$4
&nbsp
Contact Lolli Jacobsen
(707) 964-4819 or
Childs Loom no3
PTArts Equipment

Childs Loom no3
10 X 17 with real rollers
warped and ready to weave
Rigid Heddle
$4
&nbsp
Contact Lolli Jacobsen
(707) 964-4819 or
Warping Board
PTArts Equipment

Warping Board
42 inches square
$10
&nbsp
Contact Lolli Jacobsen
(707) 964-4819 or
Spool Rack #1
PTArts Equipment

&nbsp
Spool Rack no1
15" wide, 38" tall, legs out 15"
10 rows for spools, screw eyes on top edge
$5
&nbsp
Contact Lolli Jacobsen
(707) 964-4819 or
spool rack #2
PTArts Equipment

&nbsp
Spool Rack #2
Leclerc 42" tall, 22" wide, legs out 16"
2 rows of 10 bars each
$10
&nbsp
Contact Lolli Jacobsen
(707) 964-4819 or
Floor Inkle Loom
PTArts Equipment

&nbsp
Floor model Inkle Loom
could be used as a warping board as well
34" wide, 32" tall
$2
&nbsp
Contact Lolli Jacobsen
(707) 964-4819 or
Cranbrook Loom
PTArts Equipment

&nbsp
8 Harness Cranbrook Loom
Inside Harnesses 65 inches
(60 inch weaving width)
Counter marche
A real work horse
$800
&nbsp
Contact Lolli Jacobsen
(707) 964-4819 or
Slide
ITEMS For SALE at Pacific Textile Arts - ALL SOLD "AS IS" ...
&nbsp
All sorts of weaving supplies, BOOKS (many $2)
&nbsp
Yarns ........ ($4/lb) ...
&nbsp
Medal HEDDLES ---------- Penny A Piece
&nbsp
Make an appointment to visit the PTArts SALES ROOM
Janice Sullivan's AVL mechanical Dobby Loom for sale
Posted 5/15/2021
FOR SALE
AVL MECHANICAL DOBBY LOOM, WEAVES 40" WIDE, 16 SHAFTS, 1/2 YARD SECTIONAL WARP BEAM, 1 INCH SECTIONS, WARP
TENSION BOX, BOBBIN RACK WITH 48 BOBBINS, RADDLE, BOTTOM SWING BEATER, BUILT IN BENCH, APRONS, CLOTH
STORAGE SYSTEM, 10 DENT REED, MANY EXTRA HEDDLES, 90 DOBBY BARS, 100's OF EXTRA DOBBY PEGS,
GOOD CONDITION, FULLY FUNCTIONAL, EXCELLENT FIRST DOBBYLOOM.
$3500.
CONTACT: JANICE SULLIVAN, FORT BRAGG,CA jmstex@icloud.com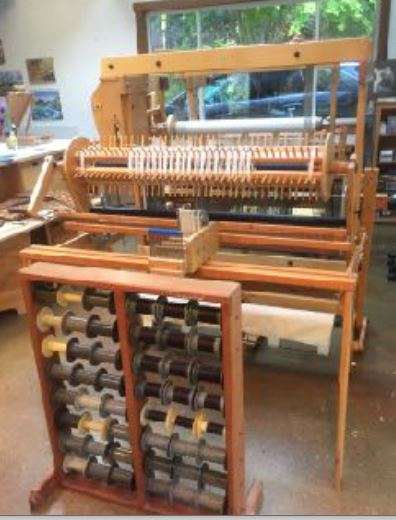 loom A
Loom B
loom C
Loom D
Laura Jones' LOOMS – Garden Valley, ID
Posted 4/9/2021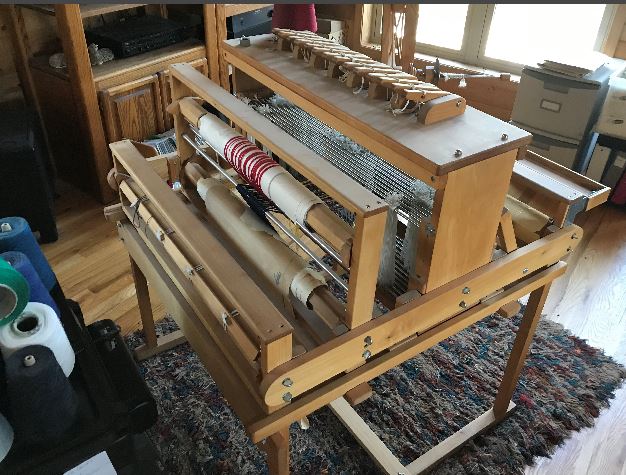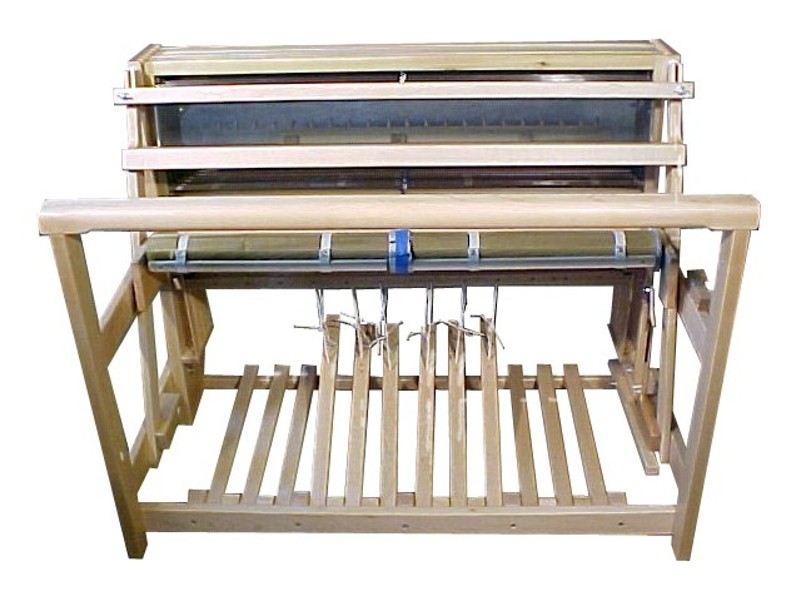 FREE LOOM – Marin County, CA
Posted 4/21/2021
"This loom is available free to a good home (or any home).  Has to be picked up, but no piece bigger than 5 X 5 feet.
In Marin County (Forest Knolls) contact douglashunt02@yahoo.com and cc aweibel@mcn.org, or call him at 415 450 8263 I can't tell if its a countermarche or just a jack loom, but it is definitely 8 Harness, and probably weaves 45-50 inches.
The reed is rusty (but aren't they all).  Looks like a good sturdy loom, but too big for PTArts.  Hopefully we can help find it a new home." 
Lolli 
A friend of mine is giving away this loom. Do you know anyone who would be interested or would you want to advertise it on your web page? It is
located in Forest Knolls, Ca (Marin County).

Made in the early 70s, an eight heddle loom. Needs cleaning. All the parts are here. Probably the string needs to be replaced.
One piece that is not wood is like a thread divider or something similar. It is a metal piece, is rusty, but it's at least a template for a replacement part.
Phil Miller made this loom. It's still in good shape. It was bought in in 1974.

It is a 5 by 5 ft. floor loom.
Annemarie Weibel
---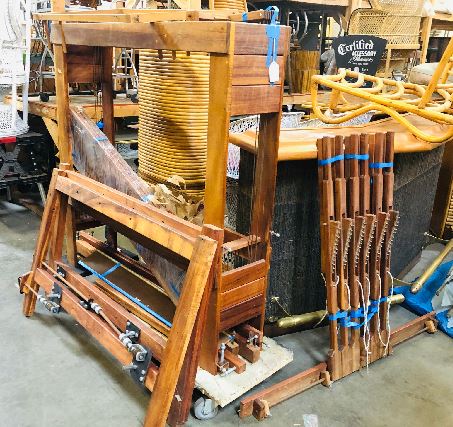 I am looking to sell my floor loom. It's a J-Made Loom from Oregon. It is 6 treadle, 4 harness, counter-marche, in great condition.
The loom belonged to a weaver who had a beautiful estate along the California coast, which was featured in Architectural Digest and several films. The loom is 54″ tall / 6 treadle / 4 harness / Weaving width 46″. There are two reeds, both of which are antiques from the Whitaker Reed company, which burnt down in the early 40s. One reed measures 46″ and the other reed measures 35.5″. There is a matching shuttle to the loom, which is great because it's a unique, dark color wood. We believe that this loom was custom built by a master carpenter as it doesn't feature any branding and is in a color that we have not seen before.
Now accepting offers.
Contact by email – Daniel

Posted 11-3-2020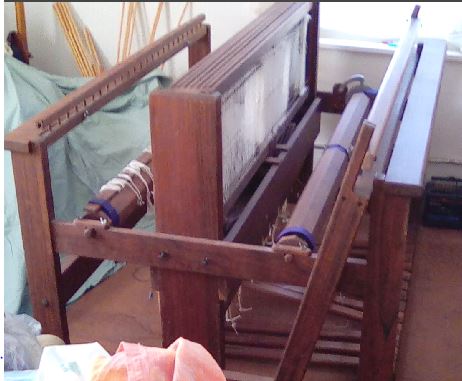 44 inch, eight harness Sanjo loom for sale. $800. Contact seller, Roberta Brockschmidt, 707 964 3600, or rrbrockschmidt @Comcast.net

Posted 10-20-2020
Ananse Village
Anansevillage.com Toll Free:(877)242-4467 Local: (707)964-3534 Anansevillage.com
Ananse Village, located on Highway One, just south of Fort Bragg is entering the fall season with a number of surprising changes. They have enlarged their retail space by almost 300%. Which of course, means a huge increase in their tantalizing inventory. This is of particular interest to textile addicts because it means more beautiful pants, tops, long and short dresses, scarves, shawls, beads and baskets. And perhaps, most wondrous of all, they have shelves and shelves of stunning, hand dyed fabrics. Of course they also carry a most unusual line of books dealing with fabrics, music, architecture, habitats and more. Alongside of these items you will find musical instruments, drums and furniture, particularly from Africa. At some point this fall they will be showing and selling the amazing collection of Guatamalan textiles collected by Raffa, a much loved, recently deceased member of our coastal community.
Besides all their recently arrive new items, Ananse Village is preparing to offer a tantalizing new service. One of their long time employees, Sandra Lindstrom, is going to make sample garments from some of their one of a kind hand dyed fabrics. Then Ananse Village will take orders for garments made to order out of their large fabric collection. This means that we, their ardent supporters, will be able to have personally chosen fabric made into a pattern of our choice by one of the north coast's finest seamstresses. How good can it get? We at Pacific Textile Arts, try too boast the wonders of Ananse Village at every opportunity because they are outstanding people running a unique business according to the best fair trade policies, as well as underwriting many community micro-businesses in Africa. We salute them and the work they do for humanity.