Primary Purposes of Pacific Textile Arts

To provide an ongoing program of classes.
Maintain a uniquely equipped

 

open studio for work in all aspects of textile

 

arts to meet the individuals educational and professional goals
To function as a community resources through speakers, lectures,

 

a slide collection and textile library
A community access gallery for historical and contemporary textiles


(

according to the Bylaws)
Mission Statement:
Pacific Textile Arts is an all volunteer educational nonprofit existing to support, share, and celebrate the fiber arts.
Our campus includes a gallery in our historic Victorian house, where exhibits are new each month; an extensive catalogued textile library; a tapestry weaving studio; and a large classroom for meetings, events, and workshops, stocked with weaving looms and equipment.  A covered patio provides an area for social events and dye workshops.
.
Pacific Textile Arts wishes to convey its gratitude to the 
Community Foundation of Mendocino County
for awarding us generous grants to build our arbor over the patio, to mitigate the effects of the Covid 19 pandemic, to upgrade our technology to better manage our Library and Textile Collections, and most recently, to build reference and materials cabinets for our weaving classroom.


Thank you for your support and partnership over the years!.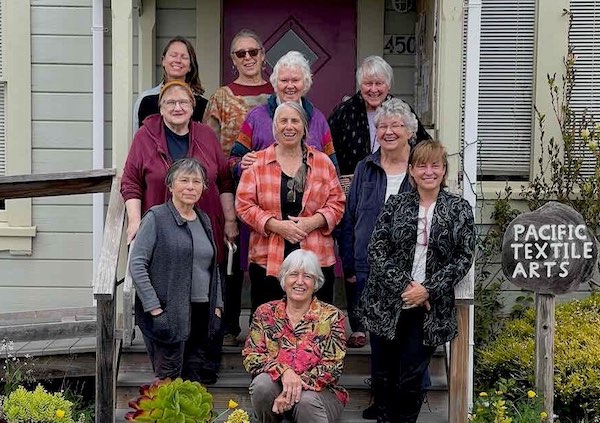 Ann Brezina, President
Nancy Trissel, Vice President
Karen Inwood, Secretary
NormaLee Andres, Treasurer
Mickie McCormic
Joanie Packard
Suzanne da Rosa