Please contact us if you would like to place a gratis "For Sale" or "Wanted" notice at this location.
Listings will remain for 6 months and taken down unless you notify us that the item is sold or wish to extend the listing period.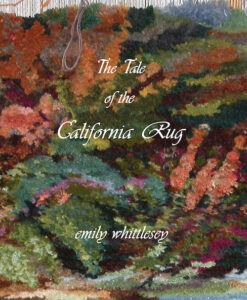 The Tale  of the California Rug
This is the story of my designing, and Vicki Fraser's making of the CALIFORNIA RUG with help from the greater Mendocino textile community.
7″ X 8.5″ Booklet, 40 pages.
$12 (tax included)
Shipping included
Payment methods: Check, Cash
Email Emily to Purchase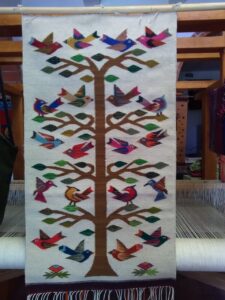 Handwoven Rugs
Rodrigo Sosa Bautista
Email Rodrigo directly
for photos of the available rugs
Or phone: 925-434-6246
We have a large collection of of Fiber Arts books for sale.
Please drop by to browse the current selection.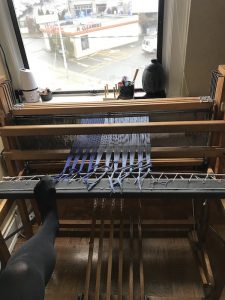 View 2   View 3
For Sale:$800 OBO
Seattle WA
Nilus LeClerc 42″ floor loom, 4 shafts and 6 treadles. Body is 42″, weaving width is 36″. Great vintage condition, works great, continuously used and tuned up.  Lots of flat steel heddles & fabric heddles. This loom can weave everything from linens to rugs. Approximate overall dimensions are 42 inches wide and 43 tall. Has a sectional warp beam. Includes 3 reeds, shuttles, and an amazing large warping board.
Email: ebertshannah@gmail.com.
Tel: 610-368-0949.
Posted 11/14/22. Expires 5/14/23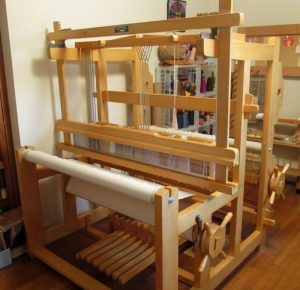 View2
FOR SALE:  $1,400
Eureka CA
Cranbrook 4-harness, 48" loom, excellent condition.
Solid maple construction, with steel front and back beams. This is a great loom for rug weaving, and performs beautifully on lighter projects.  Includes 12-dent reed.
Contact owner directly:
Email:dwild@reninet.com.
Tel: Donna W. 707-476-0273
Posted 11/15/22. Expires 5/15/23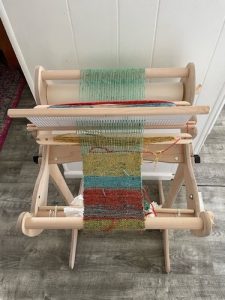 Schacht Cricket 15" Rigid Heddle loom with stand
Asking $365
Brand new, used once. It comes with the original box, all the hardware, and some beautiful yarn.
Call or email Sabine.