Please contact us if you would like to place a gratis "For Sale" or "Wanted" notice at this location.
Listings will remain for 6 months and taken down unless you notify us that the item is sold or wish to extend the listing period.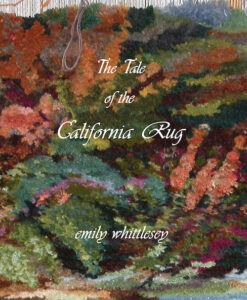 The Tale  of the California Rug
This is the story of my designing, and Vicki Fraser's making of the CALIFORNIA RUG with help from the greater Mendocino textile community.
7″ X 8.5″ Booklet, 40 pages.
$12 (tax included)
Shipping included
Payment methods: Check, Cash
Email Emily to Purchase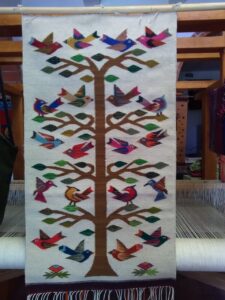 Handwoven Rugs
Rodrigo Sosa Bautista
Email Rodrigo directly
for photos of the available rugs
Or phone: 925-434-6246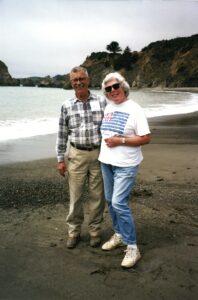 Bev & Doug Elliot
Memorial Scholarship Sale
Fiber, equipement and other related items
Generously donated to sell for our scholarship program.
VIEW HERE
We have a large collection of of Fiber Arts books for sale.  
Please drop by to browse the current selection.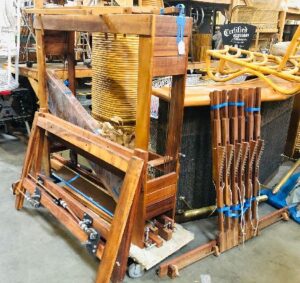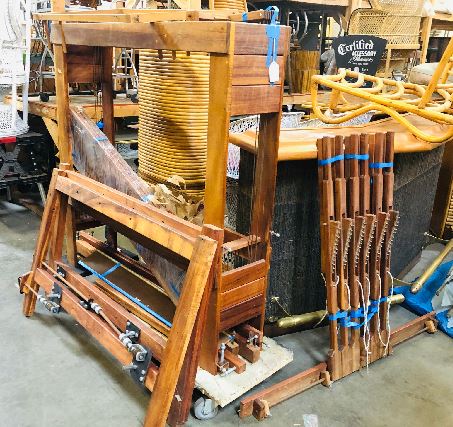 J-Made Loom. View 2
$150
I am looking to sell my floor loom. It's a J-Made Loom from Oregon.  It is 6 treadle, 4 harness, counter-marche, in great condition.
The loom belonged to a weaver who had a beautiful estate along the California coast, which was featured in Architectural Digest and several films. The loom is 54″ tall / 6 treadle / 4 harness / Weaving width 46″. There are two reeds, both of which are antiques from the Whitaker Reed company, which burnt down in the early 40s. One reed measures 46″ and the other reed measures 35.5″. There is a matching shuttle to the loom, which is great because it's a unique, dark color wood. We believe that this loom was custom built by a master carpenter as it doesn't feature any branding and is in a color that we have not seen before.
Contact by email – Daniel
Reposted 4-18-22

Floor model Inkle Loom
Could be used as a warping board as well
34" wide, 32" tall
$2