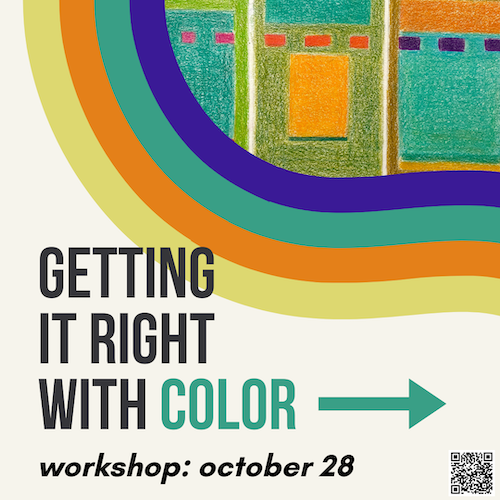 Class Title: Getting it right with Color
Instructor:  Adriane Nicolaisen
Date/times:  Saturday October 28, 1-4pm
Class Fee:  $30 members/$50 non-members
Materials fee: $5
Min/max students:  5 minimum – maximum any number that fits the table/room space
Students should bring to class:  small water jar, 2 inexpensive watercolor brushes, ruler, pencil, scotch tape.
Class Description:
Seeing color is a skill we can improve through practice.  Anyone who uses color in painting, weaving or any other visual media knows that color is essential to the success of a piece.  In this 3 hour class we will explore the elements of Hue and Value and how they impact each other in our design work.  We will do a series of simple exercises designed to tune up our color perception and we will talk bout how colors interact with each other.  We will learn some simple methods of  "designing" color ways for or work.
Learn more about Adriane and her work here
& on Instagram
Adriane Nicolaisen has 30 plus years studio and professional hand weaver, Masters of Science & Textile Design from Philadelphia University (now Jefferson College of Textiles and Science)