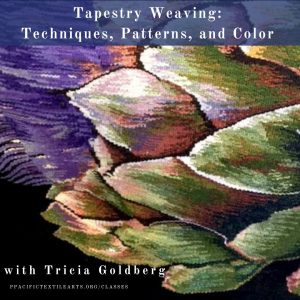 Tapestry Weaving: Techniques, Patterns, and Color with Tricia Goldberg
Class price: $350
Payment Options: $50 Non-refundable deposit/balance due or full tuition  PAY HERE
Materials fee: $30
Class Dates: Friday – Monday, April 21, 22, 23, 24
Class Times:
4/21 – 9:30am – 4:30pm
4/22 – 10:00am – 12:00pm social gathering followed by a presentation by Tricia Goldberg
4/22 – 1:30 – 4:30pm
4/23 – 9:30am – 4:30pm
4/24: 9:30am – 12:30pm
Place: Pacific Textile Arts weaving studio / patio (depending on the weather)
Email: classes@pacifictextilearts.org for more information.
Number of Students: Minimum 4 Max 8 students
Students will weave with sumptuous fine wool yarns and learn tapestry techniques including hatchings, hachures, slits, and patterns for combining colors, and experiment with eccentric or non-horizontal weaving. They will begin with warping a small loom and choose or create a design to be a paper cartoon to use as a guide during weaving. Beginners will start with basic techniques. Intermediate and advanced students may choose to have a specific focus, or problem solve in a difficult area.
All levels are welcome. Small looms and all the equipment, materials, and yarns are available to use in class.
Class Outline
Day 1. introduction to class, look at woven samples; students will choose a simple line drawing provided or work on a small design, art supplies will be provided; students will warp looms, choose beginning yarn colors, begin to weave
Day 2. students will weave on their individual projects; show and tell of students' previous work
Day 3-4. students continue to weave and complete their tapestries, take pictures with a
"cutting-off" celebration, learn finishing, discuss mounting and displaying work
About Tricia Goldberg:
"I have been designing, weaving, and exhibiting tapestries for over thirty-five years. My tapestries are in numerous collections and have been featured in various publications. One of my goals is to maintain a freshness and liveliness in my weavings. I work in color before finalizing a design, but I weave from a black and white "cartoon" behind the loom. This allows room for play and experimentation."
Tricia offers ongoing classes, read more about her on her website & social media accounts.