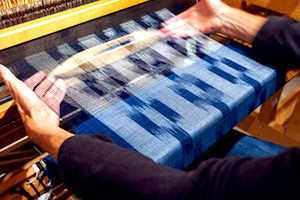 Instructor: Mary Zicafoose
Dates: May 16 & 17th, 2022
Time: 9 am to 5pm each day with 1 hour for lunch
Tuition: $130
Sign Up & Pay fees:
Materials:Download flyer
Where: PTArts Weaving Classroom, 450 Alger St, Fort Bragg CA
Covid: Proof of vaccination is required prior to the first class. Masks mandatory.
Day 1: Students will dye their stretched & wrapped warps then unwrap the ikat resist warp bundles and begin the shifted warp process, damp on the looms, drying overnight for day two process.
Day 2: Students will continue to dress & warp their loom with their dyed Ikat threads.  Four warp shifting methods will be demonstrated, techniques & tools discussed.  Weaving will begin.  The scarf will be completed post workshop.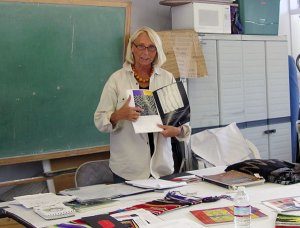 About Mary Zicafoose:
Michigan born, I received my BFA from St. Mary's College, a small women's liberal arts college, at that time the sister school to the University of Notre Dame. Between the two art departments I received an inspired art education. Graduate studies include the School of the Art Institute of Chicago and the University of Nebraska. As a young carpet weaver, seeking to make my work in cloth more painterly, I was drawn to the ikat technique. Three decades later, I remain joined-at-the-hip with this complex and relatively obscure ethnic resist-dye textile process. I am a devotee of its characteristic feathered bleeding edge, a willing partner in its demand for detail, and obediently submit to its time-consuming appetite in order to create remarkable cloth. I strive to be an inspirational presence in the textile world. I am co-director emeritus of the American Tapestry Alliance, and formerly served on the board of GoodWeave, an NGO dedicated to eliminating child labor in Southeast Asian rug factories. My work is exhibited and collected internationally, included in the collections of sixteen United States Embassies on four continents. My studio practice has for the last decade focused on creating large-scaled ikat tapestry installations for public buildings. My most recent contribution to the textile field is the Penguin/Random House book,
Ikat: The Essential Guide to Weaving Resist- Dyed Cloth
, released in 2020.
Website
Date
Mar 14 2022 - Mar 14 2022