Otherwise Known as Weaving Boot Camp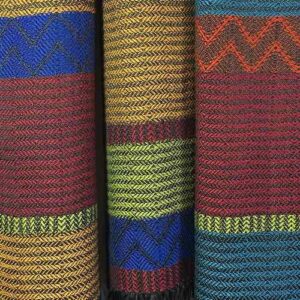 Adriane Nicolaisen
Dates: Mondays and Wednesdays June 6 thru June 29, 2022
Time: 9 am to noon, 1 pm to 4 pm
Tuition: $285
Materials Fee: About $25 for beginners
Download the flyer: HERE
Register & Pay Deposit: $50 is due at the time of registration and can be paid by Paypal here:  
Registration and deposit are due by May 15 or by arrangement with Lolli or Adriane.
If you prefer to mail a check, you must also call us (707-409-6811)to confirm and hold your space.
Where: PTArts Weaving Classroom, 450 Alger St, Fort Bragg CA
Covid: Proof of vaccination is required prior to the first class. Masks mandatory.
---
Beginning weavers: Beginning weavers: Will receive instruction in the basics of how to weave on a 4 harness floor loom including planning a project, dressing the loom, the mechanics of weaving, information about yarns and fibers and much more.
Intermediate weavers:  Learn to work more efficiently and to manipulate the elements of design that go into making a unique woven cloth
Experienced weavers: Refresh and reinforce basic skills as well as being able to work on a specific project.
All Students enrolled in this class will have access to the weaving studio most days and times except for Thursdays when the calligraphers meet or other special events.
1/2 tuition work study scholarships are available after classes have met their minimum enrollment. These are available once a year per PTArts member. Contact Lolli Jacobsen to apply.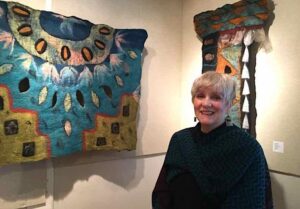 About Adriane Nicolaisen: As a professional hand weaver for over 25 years, I wove hundreds of yards of fabric, made hundreds of garments and sold my work in galleries and boutiques across the country. In 2006 I graduated with a Masters in Textile Design from Philadelphia University College of Textiles and Science (now Jefferson U.) My degree is based in having a high degree of technical training in addition to a set of design skills based on Bauhaus.