Focus On African Textiles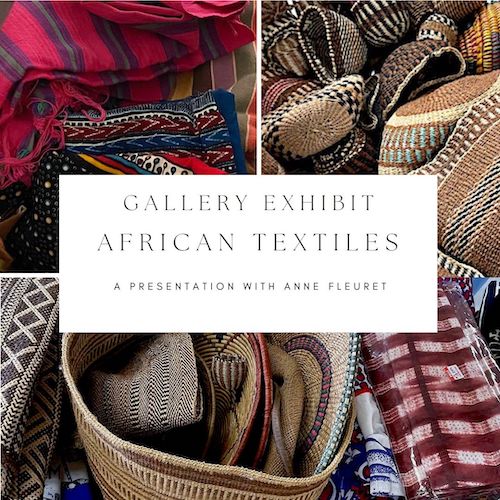 African Textile Program
We've have a very special event coming this February.  Anne Fleuret graciously donated many African textiles to our study collection.  She will be here to talk about these special pieces.  There's a large collection printed and woven yardage and baskets that she  collected from individuals and cooperatives mostly around East Africa. Some will be for sale and decorating the gallery for the month of February.
Gallery:  First Friday Opening: Feb. 3, 5 to 9pm  running through Feb. 25
Program:  Feb. 25  gather at 10 to preview the fabrics & Anne's talk at 11am.
2PM:  After a lunch break, we'll reconvene at 2pm so you can meet the PTArts Textile Study African Collection with Lolli Jacobsen and Rebecca Jarrett, of Ananse Village in Fort Bragg.  Look and learn.  Feel and touch.  Wear an African textile if you can, bring African pieces from your own collection to show and tell about.
In Anne's own words, here are the stories about her experiences living and working in Africa.
"I first went to Tanzania in 1965 at age 18.  My father received a grant to help start the graduate teacher training program at the University in Dar es Salaam and I was able to complete a year of study in African history, geography and linguistics.  I returned to Tanzania in 1970 to do my dissertation research in Anthropology.  Back again in 1975 for my first postdoctoral research project then to Kenya in 1981 for a major longterm study of the socioeconomic context of childrens' nutrition.  My husband and I then joined the U. S. Agency for International Development which manages and funds most of the US government's development assistance to poorer nations.  We did most of our service in East Africa (Kenya, Tanzania, Uganda and my last assignment in Rwanda 2019) and later West Africa (Nigeria, Liberia) and Botswana.
Most of the khanga kikoi and kitenge pieces are from Kenya and Tanzania (some also imported there from South Asia and China) the majority machine made but celebrating popular culture, local celebrities and/or notable events.  They are the usual everyday attire of rural women, sold in pairs one as a wrap the other as a shawl or headcover.  Most of the Nigerian pieces are handwoven and represent several different cultural traditions, including adire indigo from the southwest, asa oke (also come in pairs one for a headtie the other worn over the left shoulder) from the central and Delta areas, and intricate indigo and Fulani pieces from the north.  Several also from Bida Emirate of Niger state seat of the Nupe Kingdom.
The baskets are mainly from Kenya and Uganda.  In Kenya I worked with women's groups in Taita Taveta District to maintain quality and establish marketing networks.  I kept several of the "gems" that might be useful in the exhibit."