New Class – Start Weaving, Keep Weaving, Weave Better
Otherwise Known As Weaving Boot Camp
Class Postponed, check back for future dates
Adriane Nicolaisen is teaching a weaving class for the month of June.
Beginning weavers: Beginning weavers: Will receive instruction in the basics of how to weave on a 4 harness floor loom including planning a project, dressing the loom, the mechanics of weaving, information about yarns and fibers and much more.
Intermediate weavers:  Learn to work more efficiently and to manipulate the elements of design that go into making a unique woven cloth
Experienced weavers: Refresh and reinforce basic skills as well as being able to work on a specific project.
Read more  and sign up HERE
---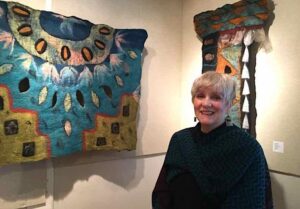 Adriane Nicolaisen was professional hand weaver for over 25 years, weaving hundreds of yards of fabric, and making hundreds of garments.  Her work has been sold in galleries and boutiques across the country.
In 2006 she graduated with a Masters in Textile Design from Philadelphia University College of Textiles and Science (now Jefferson U.) Her degree is based in having a high degree of technical training in addition to a set of design skills based on Bauhaus.